A dragon boat is a human powered watercraft used for the team paddling water sport, dragon boat racing.
Our dragon boat can accommodate 20 paddlers. We have existing crew members but are always welcoming new paddlers. No past experience required!
Please meet at the Trent Port Marina at 6:00PM for check in and route plan, as we are launching at 6:15PM.We provide paddles and PFD's.
Please bring your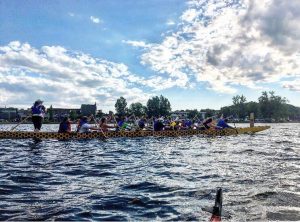 water bottle and an extra change of clothes in case you get wet (this is not a dry sport!) Please wear a hat, sunscreen, and dress weather appropriate.